The whole team of the restaurant "Le Soretel" welcomes you for a journey... gustatory according to the seasons and the creativity of the chef, from Monday to Thursday from 7:00 pm to 9:00 pm.
The authenticity and the curiosity are the main threads of our Chef Jérémy, for a cuisine made with products always fresh, at hand, grown or raised with the greatest care, where the vegetable holds a special place.
The Soretel's cuisine is above all a philosophy and a questioning around values such as quality, respect, sharing, balance, well-being. So don't hesitate to cross the door of our restaurant, the whole team will have the pleasure to honour our local products and the know-how of our local producers and share, with you, a moment of good mood and conviviality.
An early, full breakfast.
Being close to the airport, many customers need a good meal at breakfast before boarding for their next destination.
Accessible from 5:00 am, every day of the week, we offer a frugal breakfast buffet full of vitamins.
Once again, local producers are highlighted and their good products will give you a smile for the whole day.
Discover the breakfast buffet of our hotel in Mérignac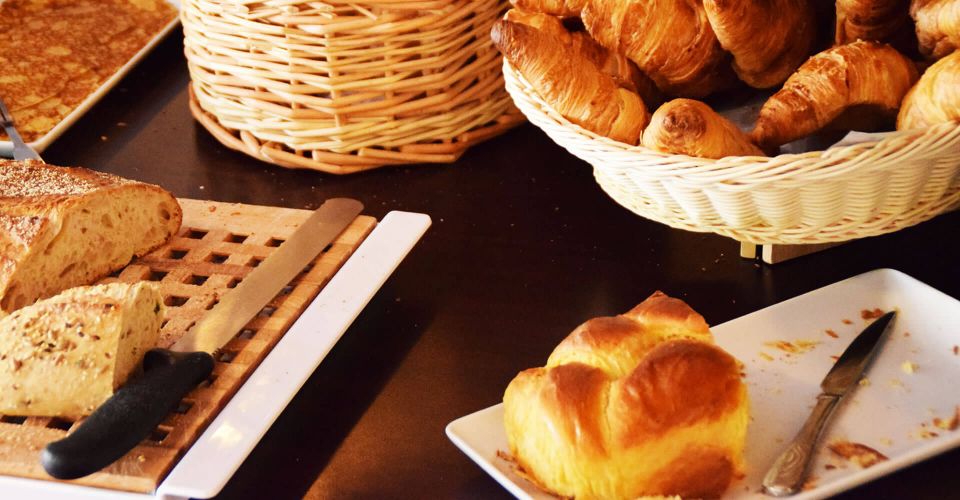 Don't feel like going out for lunch or dinner at a restaurant outside the hotel?
Know that we offer a range of small dishes in jars, available 24H/24 at the reception, sold at low prices.
The products True and Good of a craft quality have the advantage of being varied and ready in a few minutes on request at the reception.
Your take-away menu
in your restaurant le Soretel
Dear and dear customers, your restaurant Le Soretel offers you, during the whole confinement*, a take away formula, just for you !!!
Take your take-out menu to have the opportunity to dine at home "just like at the restaurant". Of course, it is our super chef who will treat you, a cuisine with quality and seasonal ingredients thanks to a local producer approach.
Chef's formula 2 Dishes 17€.
Dish + Dessert + Drink included: 33cl bottle of water
Price includes all taxes and service included.
Our dishes are served in microwaveable and recyclable cardboard trays. Orders are to be made by email to soretelmerignac@brithotel.fr, by telephone on 05 56 34 33 08 or via your digital welcome booklet. Only for your dinner from 7pm to 9.30pm, orders can be placed before 5pm on the day! *No take-away sales if our hotel is closed.
Local producers
of Brit Hotel Bordeaux Aéroport
The local producers of Mérignac...
The restaurant of the Brit Hotel Bordeaux at the airport - Le Soretel - meets the standards of the appellation "Local Producers" which guarantees consumers various signs of freshness and quality.
All the "services" are concerned; therefore, for breakfast, you will find honey from a local beekeeper, jams from Mérignac or yoghurts from the Gironde. At dinner, you will find dishes with local ingredients; for example, the Ossau Iraty toast salad...a delight! Also, our dishes can currently be accompanied by a pea purée from the Ferme du Chaudron Magique, located in the neighbouring department of Lot-et-Garonne.
Warning, depending on your dates of stay, all producers may not be represented since we are dependent on the variable stocks of these producers and of course the different seasons.

Maison Guinguet
A traditional artisanal chocolate factory whose first specialities were linked to prunes.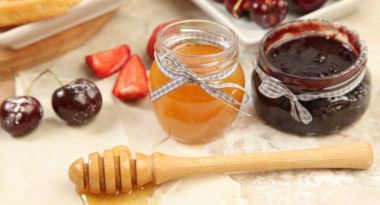 Georgelin Lucien
Jams, compotes and candies cooked in a cauldron, not to mention the spread.
Prairie de Londres
47200 Virazeil